5 Reasons Why HR Software Reduces a Company's Expenditure
by admin / October 23, 2023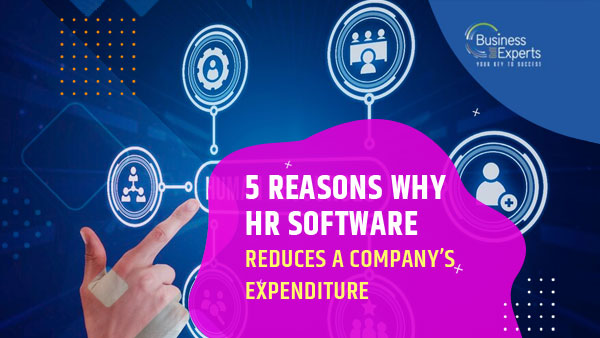 It would not be wrong to state that software-based solutions have helped businesses greatly and contributed towards their growth in ways more than one. In different areas of an organization, HR software has played a key role in increasing efficiency and ensuring that different operations and activities are carried out effectively.
The human resource or HR department is widely considered to be one of the most important departments in an organization. Apart from looking after employee compensation and benefits, a human resource executive also delves deep into talent management and ensures that all the important measures of workplace safety are in place.
A company spends a large amount of money to run its HR department comprising a large number of employees. A couple of years back, not many would have imagined that using HR software would be more effective and less expensive than getting a team of people to spearhead this particular department. But, that's exactly how good HR software has proved to be.
Here are 5 reasons why HR software reduces a company's expenditure:
Controls Hidden Expenditure
HR software and digital tools have led to companies adopting a paperless approach. A lot of companies don't realize this but office stationery costs are quite high. And, many a time, stationery costs are not accounted for. If a business is truly conscious of its costs and wants to take every possible step to control them, it should consider investing in HR software.
When you take into account the stationery costs for a particular day, they might not seem very high. However, when you check the stationery costs of your company after 12 months, you will find them to be very high. After implementing HR software, you can expect most of the data entry processes and other tasks to be carried out online or in paperless mode. This will help the company save up on a lot of hidden expenditures.
Eliminates the Scope for Error
HR is one of those departments in an organization that deals with a lot of complex tasks and activities. An HR personnel not only manages a large amount of data but also works around requests or instructions that are time-sensitive. At times, they have to deal with some very difficult situations involving employees as well. In such a scenario, committing mistakes is quite common.
Implementing HR software will help a business ensure that HR-driven errors are minimized. Good software can also eliminate the possibility of errors occurring while carrying out an HR task. The software will help the business streamline or automate many manual HR activities or tasks that are quite complex to execute.
Cut Down Recruitment Costs
If an HR platform has specialized recruitment software, it can help the company carry out a lot of important tasks with utmost efficiency. Recruitment software helps companies fill job vacancies. By doing this, it eliminates the need to hire people to do this job and controls unnecessary expenditure. Without spending a lot of money, a company can get a lot of skilled individuals on board.
These days, you come across highly advanced software that does an excellent job of screening the resumes of applicants and finding out how skilled they are to do a particular job. Since this software would have all the information regarding the requirements of the company and the type of candidates it is looking for, it will be able to recruit the right candidates for different positions.
Accounts for Absence Costs
The bottom line of a company suffers greatly from unplanned absences. Excessive absences lead to lesser efficiency and lower productivity. While employees should get some rest when they are unwell or not able to turn up for work because of an accident or injury, taking a leave should not become a habit for anybody.
Through absence management software, a company can keep track of and manage unplanned absences of employees. Through such software, one can calculate, in economic terms, how their unplanned absences have affected the business. If used well, excess company expenditure can be controlled with the help of the software.
Every business aims for high productivity and efficiently carried out operations. When a business is going through tough times or registering lower profits, it becomes all the more important for it to take certain measures to ensure work is carried out productively. For a company to be productive, its performance management processes should be carried out in a highly efficient manner.
Certain specialized HR software like integrated performance management software can help a business tremendously in finding out whether the workforce is productive enough. It will also make it easier for the company to measure the productivity levels of the employees over some time. From scheduling appraisals to monitoring progress, a lot can be done using HR software.
Conclusion
By implementing good HR software like Microsoft Dynamics 365, a business organization can run many of its HR-based tasks in an automated manner, thereby saving a good amount of money. To ensure the software is implemented correctly and in a way that helps the business considerably, it should hire the services of a good partner or collaborator like Business Experts.
To know more you can contact us at info@bemea.com. Follow us on our LinkedIn to stay up-to-date on this solution.