What Is Included In Dynamics 365 Finance And Operations?
by admin / July 11, 2023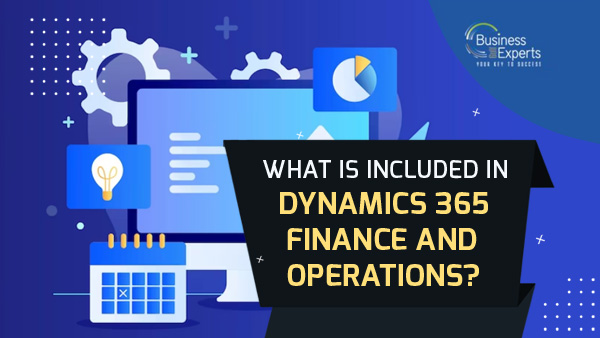 Businesses are abandoning traditional monolithic ERP systems because they are challenging to maintain, upgrade, and take too long to adopt. In the age of digital transformation, they are switching to modular, contemporary ERP platforms that allow them to manage their businesses with more wit and flexibility. Microsoft Dynamics 365 Finance and Operations is the company's enterprise resource planning (ERP) system, combining financials and business operations with an innovative, user-friendly interface for managing a game-changing, contemporary enterprise worldwide.
D365 F&O's Historical Development
D365 For Finance and Operations is one of the Dynamics 365-related programmes included in the 2016 upgrade. Initially, it managed the company's finances and a few other business operations. However, its capabilities were later upgraded to support small, medium, and big businesses as an ERP. Since it was referred to as Axapta, there have been a lot of updates.
Financial And Supply Chain Management Software from Microsoft D365
With Microsoft Dynamics 365 for Finance and Operations, you can obtain a single perspective of your company's financial and operational performance, empowering you to take data-driven decisions that promote business expansion. A wide range of features is available with this cloud-based system, including project management, manufacturing, financial management, and supply chain management.
You receive the transparency and digital intelligence your business needs to improve operational effectiveness, provide exceptional customer service, and spur growth.
Principal Qualities and Advantages of Microsoft D365 F&O
Financial Administration
Microsoft Dynamics 365 offers sophisticated accounting and financial management tools that you may use to manage your finances. Automated workflows can help you organize your financial procedures; built-in analytics can enhance financial reporting, and real-time insights can help you control your cash flow.
Supply Chain Administration
D365 F&O offers complete supply chain management solutions, including inventories, warehouses, and transportation administration. With the help of AI-driven insights, you can improve the efficiency of your supply chain, collaborate with suppliers and customers through a secure portal, and increase the accuracy of your order fulfilment.
Manufacturing
You can manage your shop floor, organise your production processes, and improve your production planning with the help of D365 F&O's strong manufacturing skills. You can manage your production costs, increase manufacturing efficiency, and enhance quality control with real-time visibility.
Management Of Projects
You can easily plan, monitor, and carry out your projects with the help of D365 F&O's project management capability. Resources can be managed, progress can be tracked, and projects can be made more profitable with the help of real-time analytics.
Corporate Intelligence
You may get valuable insights into the performance of your business using the built-in analytics and reporting features of Microsoft Dynamics 365. To promote business growth, create dashboards, customise your reports, and communicate your insights to your team.
Growing Industries Need D365 F&O
Handling the company's financial and operational activities alone could lead to numerous mistakes and a long list of unfinished business. You will be familiar with these situations if you have been in business for over ten years.
D365 F&O would be your best option for end-to-end company needs if you are one of the consumers who only want to concentrate on growth and scalability. It links and centralises the data from all corporate departments.
The various server deployment options offered by D365 Finance and Operations allow users to communicate and make technology-driven decisions as needed immediately. D365 for F&O's features and functionalities will enable users to manage a business effectively and productively while using the available resources well.
The application is more robust and practical, with a more straightforward user experience thanks to the native and power platform connectors. Additionally, it enables the business to keep tabs on rivals and clients to stay abreast of industry developments and shifting customer demands.
Manufacturing
Utilise an integrated system that improves production planning, project management, operations and activity scheduling, and cost management to increase the flexibility and efficiency of your company.
Create the best manufacturing mix for you, and support your production techniques throughout the supply chain.
Optimise manufacturing processes, such as make-to-stock, make-to-order, pull-to-order, configure-to-order, and engineer-to-order, for each product family.
Improved warehouse management, support for handheld scanners, and transport management will hasten the flow of materials and completed goods for your manufacturing operations.
Utilise a standard resource model and scheduling engine to improve scheduling throughout the organisation.
You may raise product quality and output by discovering and resolving issues with real-time insights.
Why Do You Want to Work with BEMEA to Implement D365 F&O?
Picking BEMEA as your D365 F&O implementation partner makes sense for various reasons. Our track record of successfully completing projects on schedule and within budget speaks for itself. Our knowledgeable consultants can successfully implement most applications under the Dynamics 365 umbrella.
To know more you can contact us at info@bemea.com. Follow us on our LinkedIn to stay up-to-date on this solution.