Using Microsoft Dynamics 365 CRM – 7 Benefits
by admin / May 04, 2021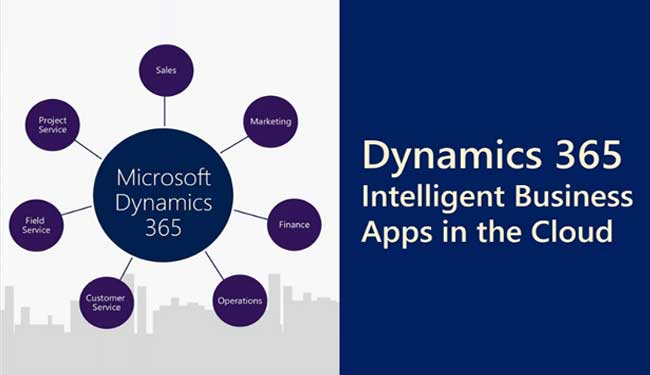 Customers have remained an integral part of any business regardless of what industry organization operates.  Customer is the king and he is the asset.  Managing customer relationships is the core requirement for emergent business. In short a Dynamics 365 CRM or customer relationship management solution could facilitate in collecting, organizing and managing all your customer data.  Moreover business demands have given way to an integrated CRM solution that is connected across different parts of your business departments from finance to operations which works perfectly well doling out results as per business needs.
Run through the following 7 benefits of Microsoft Dynamics 365 to scale up your emerging business.
1. Microsoft Dynamics 365 – Connected Operations:-
Combining seamless application of both CRM and ERP capabilities into one, Microsoft Dynamics 365 is a cloud-based integrated optimal solution. The modern solution does away with the outdated conventional methods and unites the front office and the back office by managing every business aspect with an end-to-end distinct system. These include the following:
 Marketing
Sales
Customer Handling
Field Service
Finance
Dynamics 365 enables organizations by using integrated functionality to its maximum advantage by connecting their entire business set-up.  A manufacturer can connect equipment across their factories, obtaining data from the factory floor to the finance department and call center in order to improvise business operations as required from time to time.
2. Actionable Acumens:-
The present market scene is highly volatile in terms of competition.  In such a hyper-competitive scenario, it is imperative to have a consolidated real-time visibility into all areas of business. It could be the difference between success and failure.  However, merely collecting data is not enough.  The collected data needs to be turned into actionable insights. BI or Business Intelligence of Microsoft Dynamics 365 offers built-in analytical solution exactly where it is required. This is embedded in your business processes.   By leveraging Power BI, Cortana Intelligence Suite and Azure, Dynamics 365 provides:
Visualization tools with the ability to create intuitive reports and user-friendly dashboards.  The reports are lucid, easy to comprehend and shared as well.
Powerful and robust models allow users to analyze data consistently across all the departments of the entire organization.
Responding to evolving market demands, predictive analysis capabilities are in place enabling accurate trend analysis.
Combined with powerful and robust BI capabilities, Microsoft Dynamics 365 can help companies gain visibility across the entire business in order to facilitate and take better business decisions to take business to the next level.
3. Value Added Sales & Marketing Capabilities:-
Dynamics 365 helps sales and marketing teams identify sales potentials to generate revenue.  It offers a complete view of clients and prospects. By using the collected data and combining it with the ever powerful BI and analysis, the solution empowers the organizations to create targeted promotional campaigns that are appropriately timed yet very relevant to the consumer.
Sales teams on the field can easily access the CRM data as Dynamics 365 is accessible on mobile devices as well.  Armed with this tool, the sales team can provide the highest level of service at the right place and time.
With the powerful capabilities of Dynamics 365, it enables sales teams to curtail the sales cycle by accelerating the conversion of prospects to customers.  This role of Dynamics is very significant in terms of time saved by the sales team. In other words the solution enables them to maximize customer relationships to identify growth opportunities and increase revenue of the organization.
4. Value Added Sales & Marketing Capabilities:-
Case management can be improved by the customer service teams with the help of Dynamics 365 where the team could get a 3600 view of their customers. The user interface allows service representatives to deliver more consistent and effective customer care, as the system is process-driven and effectively streamlines the case management process.
Backed by a solid solution provider, the customer service teams have the ability to react to issues with solutions.  They are also empowered to proactively identify emerging trends to guide the customers properly. Additionally, social engagement capabilities enable automation detection of sentiments and intent based on social posts.
Dynamics 365 offers service representatives the tools, guidance and data they need to effectively and rapidly resolve issues.  This is even when delivering a personalized and effective level of support.
5. Familiar Tools:-
Microsoft productivity applications like Microsoft Office are being used by many companies throughout their business. Needless to mention, Dynamics 365 integrates seamlessly with these applications. Here the learning curve is reduced due to higher user adoption.
Taking advantage of the natural integration points for Dynamics 365 and Office 365, organizations can generate enhanced productivity and revenue.
6. Scalability:-
It is a challenging task to implement a full-featured system.  However, some companies find it difficult to afford the system or equally difficult to justify an investment where some of the capabilities of the system may not be of much utility to that business. It may rather complicate the implementation process altogether.
Nevertheless with Dynamics 365, companies can implement the functionality they need when they need in their business.
Therefore the implementation process is streamlined with effective costing. A provision to add additional applications is possible using an incremental implementation approach as business requirements change. Organizations are able to quickly adapt to changing market demands and trends and move to try out in real-time even with selection flexible, extensive business applications.  This helps business in a big way to face competition with agility.
7. Scalability:-
An added feature of Dynamics 365 is that it can be deployed in the cloud, on-premise, or as a hybrid between the two.  This provides a level of flexibility enabling organizations to leverage the appropriate technology as per their business requirement. Today on-premise installations make sense for some companies.  The capital outlay to acquire new equipment and increase staffing may be unworkable.  A cloud deployment will facilitate the organization to scale up or down and even reduce the total cost of ownership.  The updates are automatically made along with backups and troubleshooting.
Eventually, the companies choose Microsoft Dynamics 365 because it allows them to do business as per their demand and requirement since the system is user friendly. Besides, it is flexible and easily integrates with the current applications that the employees are already familiar with. It also enables companies to add capabilities when needed with flexible deployment options, all these help them scale up the business to the next level.