Power of Dynamics 365 Finance & Operations: Unleashing its Key Features
by admin / June 19, 2023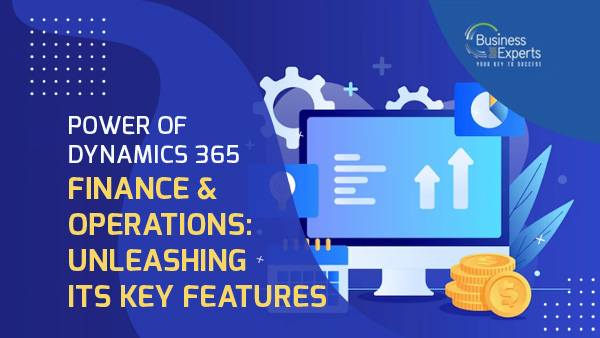 Microsoft's Dynamics 365 Finance is a significant enterprise resource planning (ERP) system designed with finance directors in mind. It primarily supports large or complex organizations in simplifying and modernizing worldwide financial processes. It works by optimizing financial visibility and profitability.
Using its cloud-based architecture and built-in intelligence, this platform allows businesses to track performance in real-time. It predicts outcomes and makes data-driven choices, ultimately fostering corporate growth.
An Overview of Microsoft Dynamics 365 Finance and Operations
This solution gives your business a centralised point of control to effectively manage operational and financial aspects. Even if your operations span across different global locations. The software empowers you to stay updated on daily sales activities, efficiently manage cash flows, and ensure compliance with regulatory requirements.
Particularly for multinational companies, these capabilities prove invaluable as the system incorporates features for the comprehensive management of global finances. Additionally, the platform offers predictive tools that enhance decision-making and facilitate proactive strategizing.
On the operational front, the Dynamics 365 for Finance and Operations equips you with tools to oversee and optimize your supply chain effectively. You can efficiently manage your business's assets, warehouses, transportation, and other operational elements.
It enables you to track inventory and plan procurement accordingly. Moreover, you can perform cost accounting operations, effectively manage costs, and exercise control over production and services. All these functionalities are present within a single application, making this solution an attractive choice for businesses.
Remarkable Features of Dynamics 365 Finance and Operations
As ERP systems have progressed, businesses have grown more adept in their utilisation and now seek additional features to enhance team productivity. Among these teams, the finance and accounting department holds utmost significance as they bear the responsibility of upholding the integrity of the ERP system.
The accuracy and precision of their financial statements and reports are essential. As the organization's overall well-being relies on their insights and evaluations. Now, let's delve deeper into the Dynamics 365 for Finance and Operations features that can effectively enhance the finance team's productivity.
Financial Management
With Dynamics 365 for Finance and Operations, businesses can control their financial operations completely. It's worth noting that this solution encompasses essential functionalities such as a general ledger, accounts payable, accounts receivable, and bank reconciliation capabilities.
Additionally, it offers tools for effectively managing fixed assets and conducting month and year-end closing processes. By incorporating these features, this all-encompassing financial management system streamlines and enhances organization budgeting and planning procedures, making them simpler and more efficient.
Sales And Service Management
The exceptional sales and service management capabilities of Microsoft Dynamics 365 Finance serve as a significant asset for numerous companies. Its customer relationship management (CRM) system establishes a centralized repository for all customer data. Accompanied by built-in software modules that facilitate automated sales and marketing campaigns.
Advanced e-commerce technology ensures secure and dependable online transactions for vendors and customers. The system maintains a comprehensive activity log within the CRM, supporting the sales process by recording all interactions and performed actions. Furthermore, the platform offers additional sales and service management features like quote generation, sales invoicing, and payment processing.
Tailored Role Platform
Dynamics 365 for Finance and Operations is a highly customizable program that caters to specific roles within an organization. By assigning roles based on users' professional responsibilities, you can grant them access to the relevant data crucial to their job functions.
The business manager role centre initially uses the most popular features of Dynamics 365 products. Users have the flexibility to select their roles based on their specific responsibilities. Additionally, they can easily navigate through customer, vendor, and item lists to access relevant information.
For instance, the Finance section provides access to essential elements such as the chart of accounts, bank accounts, and payment journals. The Sales section lets users work on sales quotes, orders, and invoices. Moreover, Dynamics 365 for Finance and Operations allows users to enable workflows, enhancing the automation and efficiency of financial processes.
Visibility across Connected Distribution
The Finance and Operations program offers comprehensive visibility across interconnected systems: distribution, customer service, sales, and marketing. It delivers real-time and up-to-date data, enabling strategic and data-driven insights for these crucial departments. By leveraging this program, organizations can gain valuable financial insights to accelerate growth, inform corporate strategies, and enhance collection management for reduced dependency.
Engaging with a Microsoft Dynamics partner specializing in Finance and Operations can provide guidance and training on utilizing these functionalities effectively across various disciplines. Moreover, with improved communication and management capabilities, organizations can optimize their processes from supplying raw materials to delivering finished goods, ensuring efficiency at every stage.
Reporting and Analytics
Utilising ERP software provides users with significant benefits, particularly regarding reporting capabilities. This holds true for Dynamics 365 Finance as well. The reporting features in Dynamics 365 for Finance and Operations are highly commendable.
The software's advanced algorithms effectively organize and aggregate data. Allowing users to gain valuable insights and identify trends across various operations. Interactive dashboards provide real-time information, ensuring that users stay always updated. These reporting functionalities empower users to make informed decisions and stay ahead of the curve.
The mentioned essential features provide a fundamental understanding of the capabilities offered by Dynamics 365 for Finance and Operations. If you are contemplating a transition to this remarkable tool, it is advisable to collaborate with a Microsoft Dynamics partner such as Business Experts Gulf.
They can guide you in comprehending the associated timeframes, costs, and licensing models that align best with your requirements. By availing of their Dynamics 365 services, you can automate financial processes and gain a competitive advantage through AI capabilities that expedite business operations.
To know more you can contact us at info@bemea.com
Follow us on our LinkedIn to stay up-to-date on this solution.