How To Use Payroll Software As A Business Personalization Tool
by admin / October 30, 2023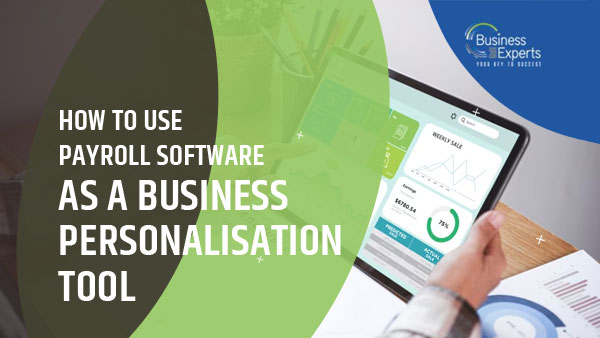 When you are running a business organization, you should be ready to deal with uncertainties and turbulences at regular intervals. To see profits in the long run, you should have the ability and strength to deal with the losses that come along the way. Operating a business becomes much easier when you are using the right software and tools. To adapt to the ever-changing business landscape, it is important to be aware of the changing technological trends and implement them in the right manner. If a business uses the right payroll software solutions, it will not just be able to cut down on unnecessary costs but also grow at a good pace.
The demands of a business organization change with time and regulatory frameworks, too, undergo several alterations. To cater to the ever-changing workforce demands, a business has to use technology to carry out necessary transformations and work towards creating a work culture that is dynamic and relevant at the same time.
While implementing a technological transformation in a business, people do not have to install payroll software at the top of their minds. However, this is as important as some of the other changes one needs to bring in the organization to make it technologically forward.
Personalized payroll software proves to be a major asset to any organization. Apart from ensuring that all the employees get their salaries on time and do not suffer from any grievances, installing payroll software can help a business cut down its costs and conduct its operations more efficiently.
Here is how one can use payroll software as a business personalization tool:
In the last few years, many business organizations have understood the importance of including people from the HR department in making important financial decisions related to the business. Since the HR department deals with the workforce, taking its help in reshaping the organization is always a good idea.
Since the HR department looks into and plays an important role in the tasks or activities that are carried out in other departments, they should be provided with some technological support. In the absence of technological support, they will feel overburdened and their overall productivity will come down. When a business invests in a personalized payroll tool or software, the HR department benefits immensely from it.
Several companies or businesses do not implement payroll software as they do not have a complete understanding of how to go about the process. Not just smaller companies, but even big organizations go through some confusion while implementing certain software. Instead of deciding to not install the software, the business should find the right partner to get it installed.
If a business is keen on installing payroll software, it should look for a Microsoft Dynamics partner like Business Experts and get things running. There are several benefits of outsourcing a technological tool or software. Apart from being sure about the fact that the software will be installed correctly, you can also expect to receive proper guidance on how to use it.
HR executives in some of the biggest organizations in the world are not too pleased with the HR technology or software they have been provided with. There could be several reasons behind that. If a HR professional is provided with outdated software, they would not like to work on it. They would also not benefit from working on software that has not been designed as per their working style or preferences.
An HR professional would be able to be productive when they get to use software or technological tools that have been personalized according to their needs. If a business collaborates with a good software provider, they can be sure about being delivered the kind of software that is designed to make the work of their HR professional easier.
A lot of people believe that using software or other technological tools leads to security threats. Using generic software might result in such issues. If the business uses well-designed, personalized software, one can be sure that no such issue crops up. If you are planning to use payroll software, you must ensure that it is customized as per the needs of your business and has multiple layers of security around it.
During manual payroll management processes, security breaches take place, and sensitive data gets leaked. By using payroll software, you limit the chances of such leaks happening. The one thing you need to ensure is that the software is designed to keep the data secure. You must also make sure that people in the HR department receive the requisite training to use the software correctly.
Conclusion
When a business is dealing with challenging times, technology helps it significantly. If implemented and used in the right manner, payroll software can help a business organization significantly. If you are planning to source out and implement payroll software in your organization, Business Experts Gulf is the company you should get in touch with.
To know more you can contact us at info@bemea.com. Follow us on our LinkedIn to stay up-to-date on this solution.