Microsoft's plan to infuse AI and ChatGPT into everything
by admin / October 09, 2023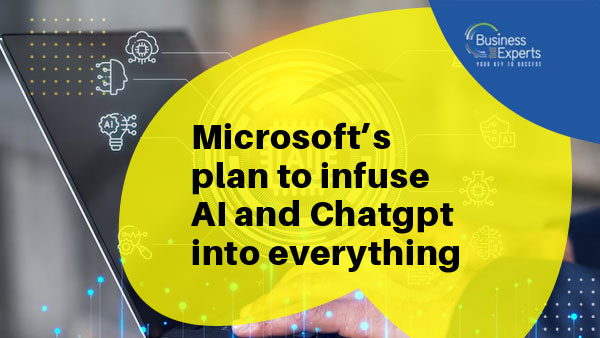 The success of ChatGPT and AI in the business realm has raised discussions about the future it holds ahead of us. AI has aided businesses in categorizing their customers to help serve them better and has helped businesses forecast market demand.
It has been very effective in automating tasks, where it can sometimes outperform humans. Contributing to faster completion of tasks with low errors, AI has been effective in easing the work pressure on humans.
Areas Where AI Is Being Implemented
Microsoft, the software company, has been changing lives since their inception in the 70s. It has already invested a whopping 10 billion in OpenAI. This has amalgamated the technology of ChatGPT into its Bing Search Engine. Now, it is planning on bringing some of its widely used Microsoft Dynamics 365 applications to life.
This will enable users of the applications to interact with these by conversing in a human like way. It will make developing emails and creating a spreadsheet easier through command. AI integrated tools and applications will help boost productivity and efficiency as well.
How Can Employee Experience Be Enriched with AI Assistance?
Microsoft has introduced Dynamics 365, Copilot, which is an AI powered assistant. This is developed to help employees get their work done with less effort. It has been proven effective in assisting employees to gather useful insights and automate tasks using conversational means. Copilot has been developed keeping in mind the needs of each business segment.
Areas Microsoft Dynamics 365 Copilot Offers Assistance In
The AI powered Copilot has been effective in optimizing operations in a vast array of areas. It has been helpful in improving the experiences of customers and deepening their relationships with executives. It has also been aiding businesses in deriving useful market and customer insights while assisting sales as well. Microsoft Dynamics 365 Copilot has been streamlining operations in the following areas:
Finance
Supply Chain Management
Project Operations
Sales
Field Service
Customer Service
Business Central
How Does the Copilot Help Modernise Operations in These Areas?
Coming as an embedded feature in the Microsoft 365 applications, it gets work done in real-time across data. It provides you with natural language prompts and suggestions and generates content on your behalf. The development of AI powered applications has been path-breaking in this world of innovation. It assists in day-to-day operations in the following ways:
Enhance Customer Experience: Copilot can be used to streamline the scheduling of technicians based on their availability and skillset. It assists in drafting responses to customer messages through simple briefings on key details. Keep reminding frontline workers of the work with timely recaps. This has all been made easy to improve a business's customer experience.
Close Deals Faster: It can help sales executive close their deals with customers faster and strengthen relationships with them. The CRM, being empowered with AI, helps sellers draft meeting summaries and pull important information out from Microsoft Dynamics applications. It can also assist the sellers in writing the perfect replies to emails through prompts.
Gather Useful Customer Insights: It helps businesses offer personalised services to their customers based on the insights gathered using AI. Now, natural language prompts can be effectively put to use for extracting insights into the market. AI will also assist businesses by helping them in targeting and segmentation of customers. But most importantly, it will help executives generate ideas for campaigns and emails.
Predict Supply Chain Disruptions: Copilot can be helpful in predicting disruptions within the supply chain management of business. It can help predict the impact of disruptions on the inventories and suppliers and inform suppliers through AI generated emails. On the occurrence of disruption, it can also help handle changes to the purchase orders.
How Did Microsoft Integrate AI in HRM?
Human Resource Management has evolved and entered into a new realm with the advent of Artificial Intelligence and ChatGPT. AI empowered HR solutions have been improving HR processes through various tools. Human Resource Managers have been implementing the use of AI powered tools across their everyday tasks recently.
It has been showing quite some success in managing employee records and payrolls. Automated processes have been assisting the managers in the recruitment and onboarding process of employees, too. Microsoft's Power Virtual Agents has made developing a chatbot easier.
The chatbots built can help employees file for a sick leave or paid time off easily. These can also help the HR manager notify the employees about any policy change. The employees can also derive the assistance of chatbots for managing their benefits. To know more you can contact us at info@bemea.com. Follow us on our LinkedIn to stay up-to-date on this solution.