Remarkable Benefits of Implementing Microsoft Power Platform in Your Business
by Author / June 05, 2023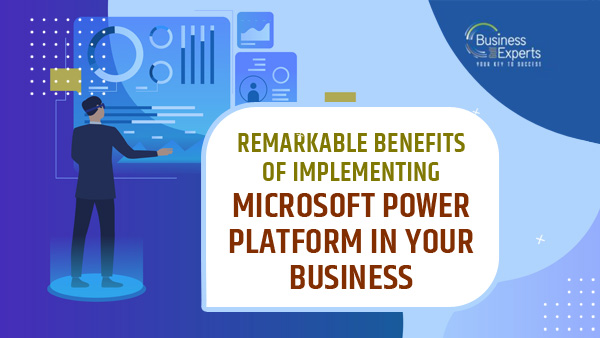 Benefits of Implementing Microsoft Power Platform in Your Business – Previously, it would have been unimaginable that Microsoft could effectively revitalise itself and, even more surprisingly, become regarded as cool. For several years, Microsoft struggled and introduced unwanted products, giving the impression of a declining company.
Nevertheless, Microsoft has undergone a tremendous change. This is particularly noticeable in the recent remarkable quadrupling of its share price. The company wholeheartedly embraced open source and substantially invested in mobile, gaming, and cloud computing.
Furthermore, Microsoft is increasingly emphasising its highly sought-after offering, Microsoft Power Platform, catering to its enterprise customers.
What Is Microsoft Power Platform?
The Microsoft Power Platform is a comprehensive collection of business applications and services that synergise the capabilities of Power BI, Power Apps, and Power Automate. Its purpose is to assist organisations in seamlessly transforming their everyday business operations and processes.
With this platform, users can analyse data and provide personalised experiences. It can help to build improved applications, effectively respond to insights, and automate diverse processes. All of this doesn't require extensive technical knowledge.
Power BI– It is a business analytics service from Microsoft. On mobile and desktop, you can use it to produce rich visualisations and highly customised reports. It offers real-time insights from data, whether it is dynamic or not.
Power Apps– You may create mobile-friendly business apps in this no-code or low-code environment. These products integrate with several popular third-party platforms and even run inside other enterprise software from Microsoft, including MS Teams.
Power Automate– It is a toolset for workflow automation. You may automate business activities by using templates, triggers, alerts, and RPA (Robotic Process Automation). All of this is quick and requires no code.
Types of Power Apps
Three main types of Power Apps utilised for development are:
Canvas Apps: It starts with the data source, adding workflows, and then constructing the design. This strategy also offers more flexibility.
Model-Driven Apps: In a model-driven app, a large portion of the layout revolves around the data linked to and information submitted into the app; what you feed in typically determines the result. This method is primarily useful when your application involves complicated business logic.
Portals: These enable users to securely engage with data stored in Dataverse by constructing web portals (websites) that are shareable both internally and outside.
How Can Microsoft's Power Platform Benefit Your Business?
Integrating Microsoft Power Platform into operations offers numerous advantages for businesses. Notably, PowerApps streamlines the laborious and intricate task of constructing a business application, resulting in the following benefits:
Customisation
One primary advantage of PowerApps is its exceptional customisation, allowing businesses to create tailor-made applications to address their specific challenges. Whether it involves tracking employee expenses, automating communications, or integrating AI capabilities, PowerApps typically offers suitable solutions. This flexibility empowers organisations to implement innovative approaches and gain a competitive edge over their rivals.
Mobile-friendliness
Another advantage of PowerApps is its ability to assist businesses in creating cross-platform applications that provide a consistent user interface across PCs, smartphones, and tablets. Mobile apps developed with PowerApps allow users to take advantage of mobile hardware functionalities such as cameras and touchscreens, enhancing the overall user experience and enabling a broader range of functions.
No Coding Required
Power Apps' unique selling point differentiating it from competing alternatives is its "low-code approach to app development." This implies that, even without technological knowledge, almost anybody can design an app. However, it is essential to acknowledge that a learning curve is still involved, particularly for individuals aiming to develop their apps.
Therefore, unless one has a developer background, it is advisable to collaborate with a Microsoft Partner to design and build anything beyond basic applications. One significant advantage of the low-code approach is the accelerated deployment of apps compared to traditional development methods.
Reduces Your Dependency on Third-Party Tools
Microsoft Power Platform combines robust analytics, design, development, and automation tools into a comprehensive suite, enabling you to maximise the value of your subscription. Doing so eliminates the requirement for individual software licensing and maintenance, reducing the burden on your IT staff and keeping costs manageable.
Work across Devices
You can use Power BI, Power Apps, and Power Automate independently or in combination, catering to your specific requirements across desktops, tablets, or handheld devices. This flexibility lets you connect with remote team members and facilitate their contributions to organisational data. Additionally, when utilising the Microsoft Power Platform apps on these devices, you can leverage native capabilities such as GPS and camera.
Power Platform leverages AI
With Microsoft's support for Open AI, the Power Platform incorporates the capabilities of GPT-4 within its suite of applications. This integration enables Microsoft Dynamics and Power Platform users to harness the power of Artificial Intelligence (AI). Certain preview features within these applications have already demonstrated significant potential and promise, with further updates on the horizon.
The advantages offered by Microsoft Power Platform are substantial. These benefits are compelling enough to persuade anyone to transition to this platform. One notable benefit is its capacity to develop apps, automate processes, and build websites without the need for coding expertise. In addition to these overarching benefits, each application within the Power Platform also provides unique advantages, further enhancing its value proposition.
Finally, you can benefit from Microsoft Power Platform by partnering with a top-notch Microsoft Dynamics consultant like Business Gulf Experts. They offer reliable Power Platform services and can guide you with their correct implementation.
To know more you can contact us at info@bemea.com
Follow us on our LinkedIn to stay up-to-date on this solution.