How Does Finance & Operations Differ from Business Central?
by Author / June 12, 2023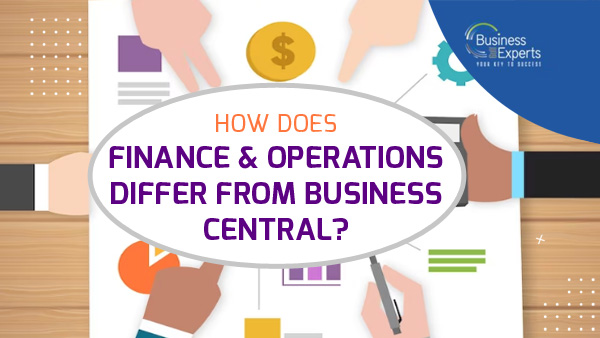 As a professional business venturing into setting up your manufacturing ERP, you will encounter a crucial decision: selecting between Dynamics 365 Business Central and Finance & Operations. Both solutions, developed by Microsoft, are highly robust and capable of delivering exceptional results for any business. However, each solution can suit types of businesses, and making the right choice can significantly impact your operations.
Before determining which solution best aligns with your requirements, it is essential to have a comprehensive understanding of the features and benefits offered by each of these solutions.
An Overview of Microsoft Dynamics Business Central and Microsoft Dynamics for Finance & Operations
Finance and Operations aim to enhance financial performance by improving reporting, production optimization, operational efficiency, cost management, and supply chain automation. These functions come with a flexible and customizable platform, reducing the learning curve associated with system adoption. Notably, Dynamics 365 Finance & Operations has undergone recent restructuring, resulting in two distinct solutions:
Dynamics 365 Finance
Dynamics 365 Supply Chain Management
Microsoft Dynamics 365 Business Central ERP represents a significant advancement over its predecessor, NAV, an older ERP software developed by Microsoft. However, it is important to note that Dynamics 365 Business Central surpasses being a merely upgraded version of NAV – it offers significantly greater strength and expansiveness. While the operating system may have a visual similarity, the similarities end there. Business Central operates in a completely different league regarding raw power and functionality.
Specifically designed for small to medium-sized businesses with employee counts ranging from 0 to 500, Business Central caters to companies with multiple interrelated components that require effective management to drive growth.  
Key Differences Between F&O and Business Central
When comparing Business Central with Finance and Operations, it becomes apparent that the latter stand out as the more robust ERP solution. With its higher cost, it can support even the largest businesses.
While both F&O and Business Central serve as ERP solutions, there exist significant distinctions between the two. The following section will delve into Finance and Operation's contrasting features and characteristics compared to Business Central.
Organization Size
In general, small- and medium-sized enterprises (SMEs) consider Dynamics 365 Business Central a better fit for their requirements. On the other hand, larger organisations typically find Dynamics 365 Finance and Operations more suitable. Specifically, Dynamics 365 Finance and Operations is well-suited to meet the needs of business organisations with a workforce exceeding 500 employees.
Modules
While Dynamics 365 Business Central can integrate with other modules, its primary function is to operate as a comprehensive, stand-alone system encompassing various functionalities. In contrast, Finance and Operations let you to add functionalities selectively depending on your specific needs.
Core Capabilities of ERP
Business Central's core capabilities span Finance, Operations, Supply Chain, CRM, and project management. Moreover, the Premium package makes additional capabilities such as service management and manufacturing available.
However, Dynamics 365 Finance and Operations offer progressive functionalities in Operations, Finance, Manufacturing, and Supply Chain. Additionally, through the comprehensive Dynamics 365 range, Finance and Operations encompass additional HR, Sales, Projects, and Customer Service capabilities.
Higher Number of Transactions
Suppose your company deals with a substantial volume of transactions, whether monthly or annually. In that case, Microsoft Dynamics 365 for finance and operations is the ideal choice as it excels in its analytical capabilities. With its robust analytical capacity, Dynamics 365 Finance and Operations can effectively handle processing several hundred thousand transactions. In contrast, Business Central is better for handling a more limited number of transactions, typically several thousand.
Business Factors to Drive Your D365 ERP Decisions
The appropriate ERP solution for your company will rely on the following:
Business Complexity
The depth of capability that Dynamics 365 Finance and Operations offers can be necessary for more complicated organisations. You can set up Business Central to satisfy several difficult requirements, though. Business Central is adaptable and may suit the requirements of many different types of organisations.  
Number of Users
The number of users will affect your required solution. Dynamics 365 Finance and Operations is the most likely option if you have 250–300 users and a significant transaction volume. A minimum of 20 users are essential for Microsoft Dynamics 365 Finance & Supply Chain Management instead of just one for Business Central.
Timeline for Implementation
These solutions require quite different timetables for execution. Microsoft Dynamics 365 Business Central may show great results in a few months. Implementing Dynamics 365 Finance & Supply Chain Management can take several months or longer. The good news is that both systems are scalable, allowing your technology to expand with your company. 
Goals for Growth
You should plan this with development in mind. It will take time to set it up, and after that, it will take time for people to adopt it. Business Central could be ideal for now, but you're adding many extra complications. A reliable partner can support this by including software goods. Alternatively, think of a larger package that can be scaled for ten years. 
Microsoft Dynamics 365 for Finance and Operations is popular for its extensive range of built-in enterprise functionalities. Dynamics 365 Business Central offers diverse capabilities. However, choosing between these two robust ERP offerings from Microsoft ultimately depends on your business needs, goals, requirements, and future vision.
Suppose you are facing difficulty deciding between the two or still have uncertainties about the ideal solution for your organisation. In that case, Business Experts Gulf is available to provide expert guidance on selecting the best solution tailored to your business needs. As a top-tier technology provider, they specialise in right-sizing the solution to perfectly fit your organisation, ensuring you can confidently move forward.
To know more you can contact us at info@bemea.com
Follow us on our LinkedIn to stay up-to-date on this solution.