What are the Functions of Payroll Software?
by admin / September 26, 2023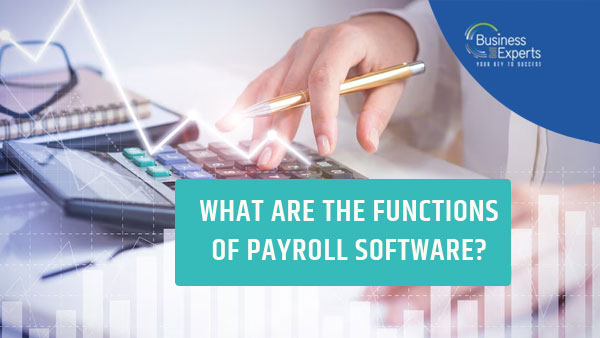 Regardless of the size, scale or sector, every business enterprise prioritises the payroll management procedure. It is incredibly crucial in a lot of ways. Believe it or not, it's true that managing a payroll process accurately can help boost the morale of employees and maintain business stability. Having the best payroll management system in place compels staff to perform better and add value. Harness the potential of the most feature-packed payroll software to enrich the experience of your company's employees.
Making your team members who are an asset to your business feel more encouraged and motivated will help improve their loyalty. So, invest in a payroll system and start using it, as because of it, the payroll process does not remain stressful and time-intensive.
Here are the main functions of the best payroll management software.
Hassle-Free Payroll Taxes Management
Every business must adhere to stringent regulations regarding proper payroll tax calculation and payment. Severe consequences are inevitable if a company fails to pay these taxes timely. Leveraging automated payroll management systems helps make the process significantly simple. Payroll solutions make creating payroll tax documents and reports easier these days.
Payroll Data Maintenance
A company must give priority to proper management of payroll data. Managing and confirming the correct monthly payout is of the utmost importance. One responsible for these tasks requires to be attentive and careful while carrying out all responsibilities.
However, using the best payroll management system prevents one from taking the trouble of checking files and documents. They can rely on the software when filing tax deposits as well as tax forms at scheduled intervals. Do so if you want to avoid legal problems and fines.
Streamline Employee Salary Structure
You won't have to experience any difficulties when you use an advanced payroll management solution. The software can streamline the structure of employee salary in an effortless manner. Manual errors aren't there, as automated payroll solutions can correctly calculate the salary an employee should receive at the month's end.
The software is very punctual related to the on-time payment of paychecks. The automated system considers every detail, such as the monthly remuneration of employees in different profiles and departments. Moreover, it takes the regular as well as overtime working hours and hourly rates into account.
Wage Accounting Compliance
A business enterprise must comply with country, state and city stringent rules and regulations pertinent to wage accounting. Many companies find it immensely challenging, which is why they rely on trusted payroll software that comes with a compliance function.
Using such a system can enable your company to confirm the work accuracy with government organizations. Complying with guidelines can help a business keep the risk of penalties, fines, legal actions, etc., at bay.
Report Creation
One of a payroll management system's prime functions is creating timely, insightful reports. There is no requirement for any manual input as an automated payroll solution can generate flawless reports like salary statements, leave summaries and salary perks.
Reliable reporting facilitates a company in creating an error-free budget, allocating helpful resources, managing overtime and more. It can help you to a great extent when you get your hands on a comprehensive overview of your taxes, budgets and several other details about payroll. So, leverage the best payroll management system.
Creating Payroll Policies
A company takes various parameters into consideration when determining the final monthly salary amount that it has to pay to an employee. Different company policies play a part when an employee expects compensation from the employer in addition to the monthly remuneration.
Thus, investing in a payroll system and the best ERP solutions is essential for a business. A trusted automated system can easily ensure systematic payroll procedures once the management establishes and authorises company policies.
Here are the cardinal policies of a company that a payroll system considers during the processing of payroll.
Employee compensation policy
Time and attendance policy
Reimbursement policy
Leave and benefits policy
Hassle-Free Integration
The integration function of a payroll system can enable your company to ensure that all crucial shared data between payroll and other software remains in sync. You can focus more on your core business functions when you use an automated system that helps you save valuable time and effort. There is no need for manual data entry as the system can update data on its own from time to time.
If you are interested in using the most feature-packed payroll management system, you must contact a trustworthy provider. It is advisable to get in touch with a reputed Microsoft Dynamic partner company in Dubai that values its clients and renders comprehensive services and assistance. To know more you can contact us at info@bemea.com. Follow us on our LinkedIn to stay up-to-date on this solution.