Dynamics 365 Business Central Functions & Features
by Author / May 08, 2023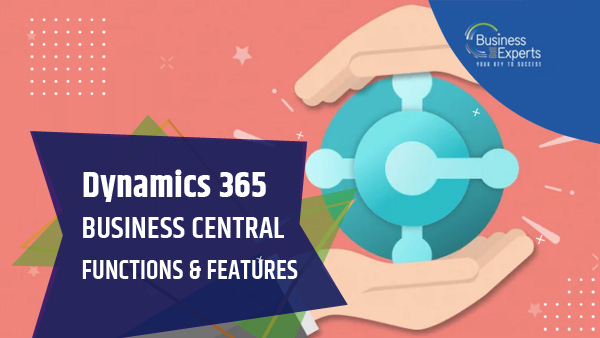 Business Central Functions & Features – For small to medium-sized organisations, Microsoft Dynamics 365 Business Central is an all-in-one business management solution or HRMS solution. It is a cloud-based programme that unifies project, inventory, manufacturing, sales, marketing, and service management tasks onto a single platform.
To know the characteristics and functionalities of Dynamics 365 Business Central, keep reading.
Financial Administration
Chart of accounts, accounts payable and receivable, bank management, fixed assets, and cash flow management are all included in Dynamics 365 Business Central's comprehensive financial management system.
Businesses can specify and manage their general ledger accounts using the chart of accounts function. And manage their vendor and customer activities, including invoicing and payments, with the use of the accounts payable and receivable tools.
Businesses can manage bank accounts and reconcile bank statements because of the bank management features. Businesses can track their fixed assets and compute depreciation using the fixed assets function.
Marketing and Sales
Sales management, opportunity management, campaign management, and contact management are all included in the full sales and marketing management solution offered by Dynamics 365 Business Central. Businesses may manage their sales process, including bids, orders, and bills, using the sales management function.
Businesses can design and carry out marketing programmes, including email marketing and social media marketing, using the campaign management function. Can maintain their customer and prospect data, including contact information and sales history, by using the contact management function.
Inventory and Purchasing Management
Dynamics 365 Business Central offers a complete solution for managing purchases and inventories, including requisition management, vendor administration, inventory management, item tracking, and purchase order management. Businesses may manage their purchase orders and receipts using the purchase order management feature.
Businesses can maintain their vendor data, including contact details and transaction history, using the vendor management feature. Track inventory transactions and manage inventory levels with the help of the inventory management function.
Businesses can trace their merchandise using the serial number, lot number, or location features. Manage their whole procurement process, including requisitions and approvals, with the help of the requisition management function.
Production Management
Businesses may specify and control their product architectures due to the bill of materials function. Businesses can manage their production orders and arrange their output because of the production orders function.
The capacity planning function helps companies in managing their production capacity and scheduling the use of their resources. Businesses can manage their shop floor operations and track their production activity thanks to the shop floor control tool.
Project Administration
Dynamics 365 Business Central offers a comprehensive project management solution that covers resource management, time and expenditure monitoring, project budgeting, and planning and scheduling. Businesses can set and manage their project budgets with the project budgeting function.
Businesses can manage their project resources, including workers and supplies, with the use of the resource management function. Control their project costs and track their project time and expenses with the help of the time and expense tracking feature.
Human Resources Management
A complete HRMS, including personnel management, time and attendance management, payroll administration, and benefits management, is also offered by Dynamics 365 Business Central. This enables companies to handle their HR procedures more successfully, assuring employee happiness and labour law compliance.
Businesses may control employee attendance and time monitoring with the help of the time and attendance management function. It has functions like clock-in/clock-out, timesheet administration, and leave administration.
Businesses can automate their time tracking procedures with the help of this tool, which lowers errors and boosts accuracy.
Businesses can manage their payroll operations, including payroll calculations, tax deductions, and benefit deductions, using the payroll administration function.
Conclusion
Small to medium-sized enterprises may enhance their bottom line and streamline their operations with the help of Dynamics 365 Business Central, a comprehensive business management solution. Businesses can manage their entire operation on a single platform due to features like financial management, sales and marketing management, purchasing and inventory management, production management, project management, service management and HRMS. 
To know more you can contact us at info@bemea.com
Follow us on our LinkedIn to stay up-to-date on this solution.