Creating a Data Culture for Your Business with Microsoft Power BI
by Author / May 22, 2023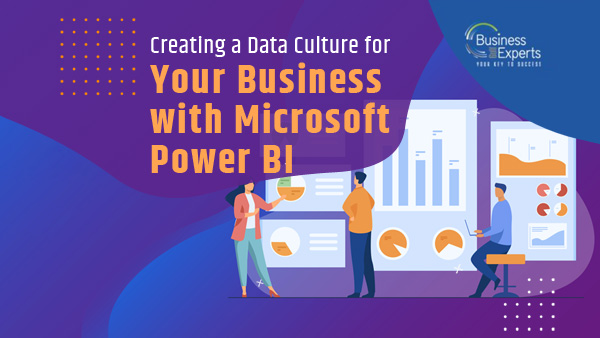 Businesses must have a strong data culture to succeed in today's data-driven world. As a result, everyone inside the business needs to be given the authority to use data efficiently to make wise decisions. Microsoft Power BI is a potent tool that enables users to visualise, analyse, and share data in a form that is simple to grasp, which can help organisations develop a data culture.
To know how businesses may use Microsoft Power BI to develop a strong data culture, keep reading.
Make Data-driven Culture a Priority
Developing a mindset in which data is viewed as a valuable asset is the first step in developing a strong data culture. This implies that everyone working for the company should be aware of the value of data and how it can be used to guide choices. It also implies that data ought to be a crucial factor in every decision-making procedure.
It's crucial to give employees the equipment and materials they require to work with data if you want to foster data-driven culture. Because it is user-friendly and simple to incorporate into current workflows, Microsoft modern workplace is a great tool for this. Giving employees access to Power BI will enable businesses to enable them to work with data and make informed decisions.
It's critical to nurture a data-driven attitude in addition to developing a data-driven culture. Businesses may make sure that everyone is collaborating to utilise data efficiently by cultivating a data-driven mentality.
Educate and Assist Your Employees
It's crucial to give employees training and support so they can use Microsoft Power BI efficiently. Training sessions, online tools, and one-on-one coaching are a few examples of this. The purpose of training and support is to make sure that staff members are comfortable with Power BI and are aware of all of its capabilities.
Businesses can guarantee that staff members can use Power BI efficiently and make the most of the product by offering training and assistance. Employees may feel more confident and empowered to use data to make wise decisions as a result.
Create Policies for Data Governance
This covers regulations for data security, privacy, and quality.
Built-in security capabilities in Microsoft Power BI can assist businesses in enforcing data governance requirements. Administrators can specify data security policies and limit access to data, for instance, using Power BI. This could make sure that information is used sensibly and kept safe from unauthorised access.
Promote Cooperation
Building a great data culture requires collaboration. Businesses may make sure that everyone is collaborating to use data efficiently by fostering collaboration. Built-in collaboration tools in Microsoft Power BI can aid in facilitating cooperation. Users can collaborate on the same report in real-time and share reports and dashboards with others, for instance.
To guarantee that everyone in the business is collaborating to use data effectively, cooperation is encouraged. This can support the development of a solid data culture and guarantee that everyone is basing their judgements on the same facts.
Determine Success
The success of your data culture initiatives should also be evaluated. By doing this, you can make sure that you are moving in the right direction to accomplish your objectives and develop a solid data culture.
For instance, you can keep tabs on how many people are using Power BI. How many reports and dashboards are being produced, and how the data is influencing decision-making procedures. You may monitor your progress towards reaching your objectives and establishing a solid data culture by assessing your success. This can make sure that everyone within the company is collaborating to use data effectively.
Conclusion
A strong data culture may be developed within organisations with the use of Microsoft Power BI, a potent tool. Businesses can make the most of their data and use it to make wise decisions by establishing a data-driven culture, offering training and support, establishing data governance policies, fostering collaboration and measuring success.
To know more you can contact us at info@bemea.com
Follow us on our LinkedIn to stay up-to-date on this solution.