Benefits of finding the Right CRM System
by Author / March 27, 2023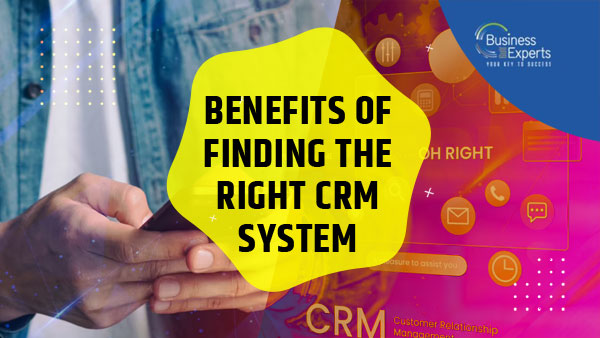 Benefits of finding the Right CRM System – For any business to function smoothly, its customers play a significant role. Regardless of the business type, objectives, or kinds of services and products offered, your customers are the most valuable assets. They are responsible for giving your organisation a sense of direction and purpose. They provide valuable feedback and make way for new ideas and concepts.
Not to mention the revenue your customers bring in to grow your business. So, for any business, customer satisfaction should be their main priority amongst others. More than simply appreciating the customers, it means acknowledging their needs and wants.
What Do You Mean by A CRM Software?
CRM software allows businesses to manage, track and organise customer interactions and relationships. It can enable you to store customer information like user behaviour, purchase records, sales interaction notes, etc. This information will help to optimise the marketing and sales processes while improving customer service within your company.
CRM, or Customer Relationship Management software, is among the fast-paced industries which are becoming a vital tool for companies of all sizes. CRM software can benefit a business in various ways, including increased sales, customer retention, and detailed analytics. It can organise contacts and automate essential tasks.
It acts organised and centralised hub that allows consistent communication within the organisation and with customers. Become even more essential as businesses are shifting to remote work in huge numbers. So, this software helps to gather all the customer interactions in one place and helps to improve customer experience and satisfaction.
7 Ways to Benefit Your Business with the Right CRM System
A business can use CRM software in many ways that would benefit the company in the long run. So, here are seven key benefits of investing in the right CRM software for your business.
Better customer service
Modern-day CRM systems offer many functions. The software helps to optimise business-customer relationships and is among the most important benefits. It manages the contacts and gathers essential customer information efficiently, like purchase records, demographics, previous messages, etc. CRM makes this information easily accessible to the concerned departments in the business.
This makes sure that your team has everything they must know about your customers in one click. Based on this information, your employees can provide a satisfactory customer experience to boost customer experience.
CRM for Enhanced Communication
By giving all employees access to the same customer information, CRM enables all employees to deliver the same high level of service. CRM software makes comprehensive client information accessible to anyone who might require it. Because everyone dealing with the client will be using the same information, it won't matter who is doing so right now. Additionally, since CRM is cloud-based and usable from any device with an internet connection, its communication advantages extend beyond the office.
Maintain a Centralised Database across Your Sales
With the use of CRMs, your entire sales organisation can save all prospect data at any time in one central database. This enables instant access across teams and the simple management of all information through a shared place. CRMs save salespeople time by preventing them from going through files and records to obtain the data they require about prospects to follow up and close sales.
Automate Data Entry
Your staff won't ever have to waste time tracking emails, calls, meetings, interactions, etc., using a CRM. The system will automatically gather and combine each of these pieces of data. Additionally, a Microsoft Dynamics CRM enables sales representatives to update all deals according to their stage. The system will then take care of the rest automatically, making the process as effective as possible for all parties.
Bolster Revenue
The revenue stats speak for themselves when it comes to your company. High revenue indicates that you're on the right track. Low revenue indicates that you need to fix the problem as soon as possible. There are numerous ways for businesses to increase their revenue. Promoting sales, minimising your Total Cost of Ownership (TCO), and similar activities. Nevertheless, you can dig further using a CRM.
So that you can decide where your efforts are best to use, you can measure revenue by geographic region. You can see your sales reps' performance using CRM. You may improve the effectiveness of your entire sales force by using the lessons you learn from tracking what your best performers do.
A customer is more than a sales opportunity for your business. You may offer an excellent product or service, but it won't be of any use if your customers are unsatisfied. So, building a good relationship with your customer using the right CRM system can help you go a long way.
Are you looking for the best CRM solution provider? Business Experts Gulf can be the one-stop destination offering a unified interface. They make it easy to communicate with customers on a real-time basis. You may reach out to their professional team for effective assistance with Microsoft Dynamics customer service systems.
To know more, reach out to us on info@bemea.com or call +971 4 421 4909. You can also WhatsApp us at +971 54 328 2117.
Follow us on our LinkedIn to stay up-to-date on this solution.