7 Reasons to choose Dynamics 365 Commerce
by admin / May 04, 2021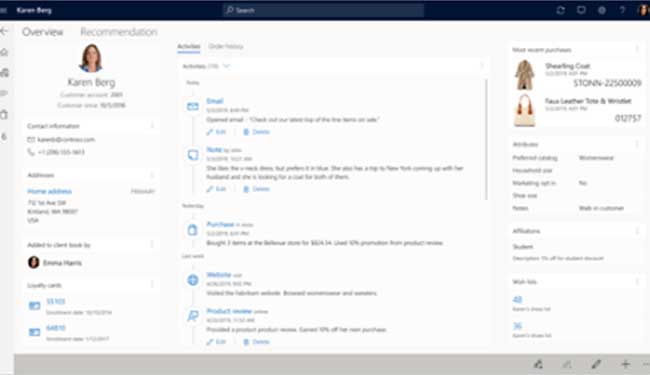 Technology has changed the way business is conducted and how it used to be done even a decade ago. Like one would not go to 3 or 4 stores to buy different items but would go to a hypermarket now. Microsoft Dynamics 365 is soon becoming one such hypermarket which offers you the best tools. The facilities, benefits and the apps that one gets to enjoy with Dynamics 365 Commerce are innumerable and is a one-stop solution for any kind of business.

What One Understands By Dynamics 365 Commerce?
The latest tool that Microsoft Dynamics has to offer would be Dynamics 365 commerce and how it is changing the way and paying new paths for businesses. It helps you to build your product or brand website, maintain all the physical alongside the online stores. It also helps you to interact and manage your customer interaction, offer personalized services to patron and others.
It also helps you to engage with your customer over all kinds of platforms and improve the various sources of your enterprise and make sure your business gets all-around holistic growth and succeeds with huge potential.
The platform has so much to offer as not only business, it has something for the other end of the spectrum too and makes sure operations are optimized and runs efficiently. This means that you could easily check out all the insights and make sure every part of your business is running smoothly. It helps you find a data-backed solution to any issue you might be facing. Here are some of the top reasons why you should be considering going for Dynamics 365 Commerce.
You Could Easily Build Your eCommerce Site
With built-in-web authoring, you could easily build your own website with Store Starter Kit. Whether you own a small, medium or a big one, any website could be catered to how you want to build it and what your requirements are. You first get a dummy site before finalizing. There are some modules to follow like the container, the product details page, marketing, purchase, recommendation and others.
Have Access To Comprehensive Insights To Stay Connected
This comes with so many tools, apps and AI-based application that helps you have a comprehensive knowledge on what is going on in your website and help you stay updated. You get important insights on various customer services and feedback which helps you manage your brand quality and store.
Helps By Improving Your Customer Experience
When it comes to customer interaction, behaviour, retention and feedback, you might want to stay on top of everything. This shows that you care and your Microsoft Dynamics 365 Commerce helps you establish that. You, therefore, get to provide the right support to your customer.
You Have Quick And Hassle-Free Access To Data
It is a cloud-based application, and therefore you have unified access to data which is protected. It is centralized and only with a password, one could enter.
It Is Scalable And You Do Not Have To Worry About Hardware
You do not have t worry any kind of hardware or any physical space as it is clearly cloud-based. If you wish to add new software, one could do that too, upgrading it is simple.
It Is A Trusted Brand That Many Reputable Companies Use
Microsoft is one of the most reputable companies in any technology-based sector and companies which are already in Microsoft's ecosystem could benefit from this. You profit greatly from this new tool.
It Is Highly Efficient For Any Company
It helps in tracking the resources and also helps you with each department and minimize any kind of delay. The scale of efficiency is high and you can organize your website any way you prefer.
Therefore, these are the top 7 reasons why one should be going for Dynamics 365 Commerce if one wants their company to reach new heights.