Investing In People And HR: A Strategic Move in A Mixed Economy
by admin / November 15, 2023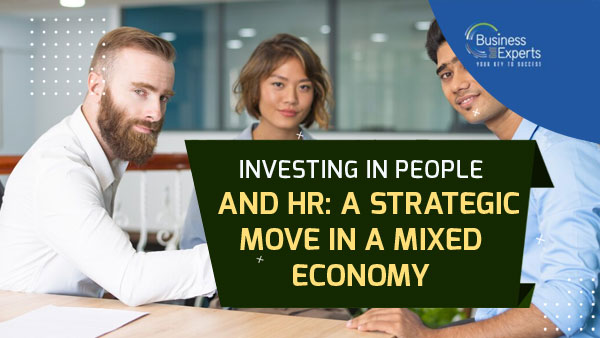 Due to the current economic climate, Businesses face a distinct and complicated set of circumstances. The labour market is buoyant, on the one hand. On the other hand, there is a real and, for many organizations, impending prospect of a recession.
Businesses may find it difficult to reconcile the paradox that this mixed-economy scenario creates. However, it also presents a chance for companies to invest strategically in human capital and HR technology to boost productivity and increase employee engagement.
How Can HR Directors Support the Success of Their Organizations More?
Due to a mixed economic outlook and various challenges, business executives are forced to revaluate personnel requirements and make do with constrained tools and systems. What more can you do for your team, business, and yourself in this environment?
There are several obstacles that HR software worldwide must overcome, such as a slowing hiring rate, uncertainty, a cooling economy, and competition for skilled labour. A recent Global Talent Trends report indicates that, since September 2021, recruiting rates have dropped by 18% in India alone.
Furthermore, according to 40% of HR directors, they are currently unable to develop skill development solutions quickly enough to meet their changing needs. While 36% of HR directors claim their sourcing strategies are insufficient for getting the required skills, 46% of HR leaders rank recruiting as their top priority.
Even if on-going disruption directly affects the shifting need for skills, a new study reveals that 45% of HR directors claim all the change wears out their staff members. All of these demands inevitably affect HR software in different ways.
Key team members departures force the remaining team members to take on more work, forcing them to pick up new specialized skills to cover job-critical gaps quickly.
Filling Important Job Openings
Following the Great Reshuffle, the employment market is becoming more competitive in APAC, and hiring is decreasing globally. Organizations are nevertheless facing a critical skills deficit. Additionally, hiring decisions are frequently made primarily on a candidate's connections, degree, or prior employment rather than their skills.
Additionally, there isn't much time or money to post employment openings. HR departments are under pressure to determine which functions are most important.
Filling In the Skills Shortages
In light of the current labour shortage, it is frequently a waste of time to interview applicants who don't have the necessary skill sets to support departments. Furthermore, when the expenses associated with hiring fees unavoidably rise, senior management will put more pressure on you to defend the mounting costs.
In the end, these "make-do" situations take attention away from the primary goal of your HR staff. That is, to support your team members and employees in realizing and achieving their most significant potential as people daily, therefore fostering your company's growth.
Making critical decisions in the face of macroeconomic uncertainty and investing in your employees' futures that prioritise skills is what it means to be an HR leader.
Making difficult choices is necessary in this situation, such as weighing the trade-offs between investing in talent and cutting costs or between satisfying essential business requirements and your employees' needs. These problematic decisions affect everyone in your organization, including its employees and you.
Now is the perfect time to quit settling for less and start accomplishing more. To invest in your staff, close essential skill gaps. Additionally, to relieve yourself of some of the pressure—not just on your team and company, but also on yourself.
A Cornerstone to Prospering in Uncertain Economic Times Is HR Technology
HR may have always only been in charge of planning office parties and payroll, but as more and more executives come to understand that their most valuable resource is their workforce, HR has taken centre stage.
As businesses expand, hiring procedures and talent management become more critical, and Dynamics 365 investment is crucial to attracting and retaining top personnel and advancing the industry.
Given the current mixed economy, it is more crucial than ever for companies to invest in people and technology. BEMEA makes a strong case for this calculated expenditure. Ultimately, it helps us reduce expenses, increase productivity, and improve our bottom line by fostering a more connected and engaged staff and streamlining Dynamics 365 procedures.
We feel more resilient and confident in our ability to manoeuvre through economic uncertainty because of the use of HR technologies like BEMEA while maximizing the potential of our outstanding staff. Work in the future will be digital, adaptable, and focused on people. Are you prepared to accept it?
To know more you can contact us at info@bemea.com. Follow us on our LinkedIn to stay up-to-date on this solution.