Why HRMS is a Must-Have & How to Get Started
by Author / April 03, 2023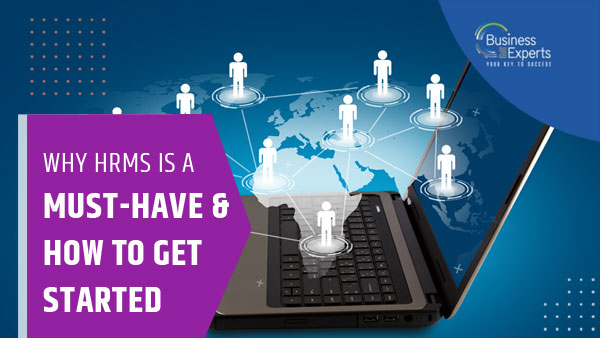 What Makes HRMS A Must-Have Software and Tips to Get Started? Several stakeholders must work together to scale a firm. Because successful cooperation is essential, businesses must position the right people appropriately. Effective processes must be in place for human resources departments to carry out fundamental HR tasks, particularly in hiring and onboarding.
This post will take a closer look at how the Microsoft Dynamics HRMS system functions, benefits your organisation, and tips for getting started.
What Is HRMS?
A consolidated, all-in-one HR system called an HRMS (Human Resource Management System) makes it possible to manage many HR activities. An HRMS's primary goal is managing HR activities effectively, mainly through consolidating data and automating manual procedures.
Using an HRMS, you can combine the fundamental and HR functions into one solution. The most popular modules for HRMS are:
Recruiting and onboarding
Scheduling and time management
Payroll management
Reporting and analysis data
Monitoring employee performance
Essential Benefits of Investing in an HRMS Software
Companies are starting to realise how much work an HR department must accomplish. Also, it is exceedingly challenging for an HR to complete all these jobs and manage personnel effectively. Not to mention ensuring the workplace is welcoming and growth oriented for the staff. Here's what makes Human Resource Management System a must have for every business.
Employee Self Service (ESS)
One of the HRMS Modules is Employee Self-Service, which empowers employees to take care of themselves. ESS allows employees to examine and edit their information without going via HR. The procedure fastens by eliminating the middleman in this way. The ESS comprises CTC, personal and legal information, and much more.
Improved Data Consistency and Analysis
Using HRMS software will make your data more consistent and simpler to analyse. Computerised technology allows for real time data analysis. An effective HR called HRMS can evaluate essential data and records and assist you in making crucial business decisions. It aids in the creation of long-term business strategies. The system may also enable you to work with little overhead, maximum output, and superior data security.
Create Accurate Reports
With an HR management system, it is now possible to generate precise reports regarding employee performance and monitor the development of teams and departments that include aesthetically attractive graphs and charts. Using this data, you can do project planning, recruiting choices, and general progress tracking.
Speed Up Recruiting
The era of paper resumes, lengthy interviews, and antiquated hiring procedures are over. Now several businesses in the field of employment conduct their operations online. Digital methods that save time and expedite employment replace antiquated, paper based hiring practices.
Security
While experiencing the new normal of remote working, controls and security systems must be strict. This way, you won't miss out on business specific information anywhere or everywhere. So, investing in the best HRMS platform that can safeguard you from data theft is more important than ever. When you used to maintain a personnel file for employee records is long gone.
How to Get Started with an HRMS Solution?
Based on the different benefits and functionalities, various HRMS solution are available. Here's a step by step guide to getting started with the right HRMS solutions to handle your HR processes.
Step 1 – Understand HR Needs
Finding all the difficulties you have with your HR procedures is the first step in the approach. Consider managing data, procedures, hiring, and other tasks. Make a list of all the specifications that will guide your search for HRMS features that meet your expectations.
Step 2 – Get IT Advice
After identifying your requirements, convey your demands to your IT staff and ask for assistance. They know current technological developments and can help you distinguish between suppliers and their capabilities.
Step 3 – Set Your Budget
That is a crucial factor in your selection. By evaluating your firm's size and future demands, you must create a budget before purchasing an HRMS. Consider the expenses of the solution's implementation, and maintenance. Create a list of suppliers who fall under your spending limit.
Step 4 – Select and Shortlist Vendors
After creating a list of HRMS features depending on your needs and budget, thoroughly examine the companies' offerings. Check whether they know the issues and whether their solutions will be similar. Do they provide integration, or configuration? Software demonstrations are another option for learning about this. Most importantly, ensure that your employees can benefit from that.
Step 5 – Decide
The best HRMS is worth the investment, even if it might be complicated. They may help you develop a compliance culture, manage your hiring process, and automate workflow so you can spend more time doing what you do best. They're not only for time tracking and record keeping. On this note, Business Experts Gulf brings you the best Microsoft Dynamics HRMS solution to boost your business functions.
To know more, reach out to us on info@bemea.com or call +971 4 421 4909.
Follow us on our LinkedIn to stay up-to-date on this solution.