What is Microsoft Dynamics 365 used for?
by Author / January 24, 2023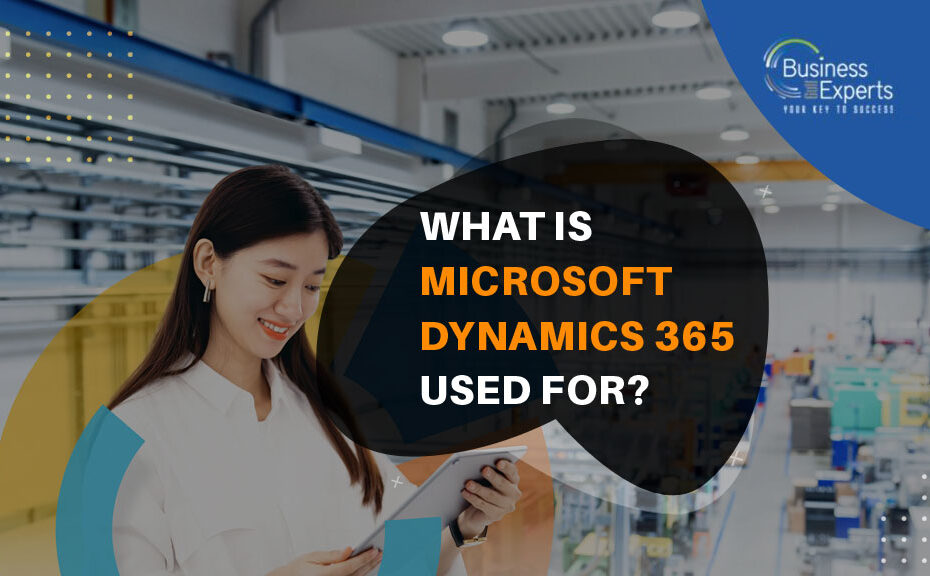 Mid-market businesses find it simpler to interact with clients, team members, and prospects thanks to Microsoft Dynamics 365. It is the only cloud-based option that offers everything a business needs in terms of enterprise resource planning and customer relationship management.
It integrates all your CRM applications, greatly streamlining the sales process. Employees get the resources essential for enhancing client and customer experience, to boost output and sales.
Definition from Business Experts Gulf
Using CRM and ERP systems substantially internal communication. It integrates digital intelligence into all business operations. This way Microsoft Dynamics 365 may assist your company in the required digital transformation.
Are you interested in business applications? Or do you already have internal CRM or ERP solutions? Maybe you utilise both cloud and on premises services. Any firm may benefit from using Microsoft Dynamics 365 and the cloud business application platform, especially those that require the ability to scale up and down as necessary.
What is Microsoft Dynamics 365?
Microsoft Dynamics 365 is a collection of integrated, modular Software-as-a-Service (SaaS) apps and services. It intends to alter and support the business operations of your clients, staff, and customers. It integrates your data, business logic, and processes of CRM and ERP. Therefore, Dynamics 365 delivers integrated, and intelligent sales. It effectively connects, and converts leads into paying clients instead of having separate sales and activities.
Built on Microsoft Azure, it provides a reliable platform and a wide range of service options. Additionally, it's a part of the tools in Microsoft 365. Thus, it provides a uniform method to manage people and services.
Uses of Microsoft Dynamics 365
Microsoft increases control over several factors thanks to its experience developing, and maintaining CRM solutions. It mainly includes client satisfaction, sales process, and greater productivity. Here are the main applications of Microsoft Dynamics 365.
Improved Operational Efficiency
Microsoft Dynamics CRM significantly boosts operational efficiency by standardising corporate procedures. Organisations may automate tasks and procedures using its workflow engine in ways individuals can utilise daily. Microsoft Dynamics 365 may free up your staff from routine but important tasks.
It can automate time-consuming, operations, alert staff members of client concerns, and automatically send emails to clients and partners. This will help ensure that your clients' orders and requests aren't overlooked.
It Helps to Understand Your Customers Better
Dynamics 365 combines all customer data types so that you may obtain a full picture of the consumer and their purchasing process. Therefore, one advantage of Microsoft Dynamics 365 is that you can utilise pre-built KPIs with real-time updates to analyse the client journey. You may also assess and monitor the state of client connections in addition to the consumer experience. 
Offers Flexibility and Usability
Flexibility is the next advantage of connecting with a Microsoft partner UAE. A subscription model and an operating cost are far more adaptable than capital expenses. You may purchase only the required items rather than paying for a full package. This could end up being considerably more affordable. Additionally, managing your own data centre and servers may be avoided when utilising Dynamics 365, which can drastically save your expenditures.
If you utilise Dynamics 365, you'll observe how simple it is to seek and locate the apps that you and your company want. This makes solutions simple to use and comprehend. You may easily look for an app to aid you when your needs alter.
Integrates with Microsoft Products
With Dynamics 365's complete integration with Office 365, using Outlook, Power Bi, and SharePoint is a breeze. Using Microsoft Dynamics 365, switching between apps is quick and easy.
You don't need to worry about your staff taking longer to enter consumer data into other systems. Additionally, you need not offer additional staff retraining. You may examine and make improvements to your business using the comprehensive picture provided by this programme.
Microsoft 365 integration
The full technological stack, including apps, services, and tools, comes with Dynamics 365 to support your business transformation. It's a connected, intelligent business application strategy that cuts across every division and organisation. With the Power Platform, you can quickly and easily automate procedures while building bespoke app experiences. Business Experts Gulf (Bemea), a leading Microsoft partner UAE, is a well-known supplier of IT services and business technology solutions for expanding businesses. Their clients can utilise an enterprise system to its maximum extent thanks to their knowledge of the numerous industrial sectors.
To know more, reach out to us on info@bemea.com or call +971 4 421 4909. You can also WhatsApp us at +971 54 328 2117.
Follow us on our LinkedIn to stay up-to-date on this solution.