Dynamics AX To Dynamics 365 Finance & Operations: Upgrade Vs. Migration
by admin / June 26, 2023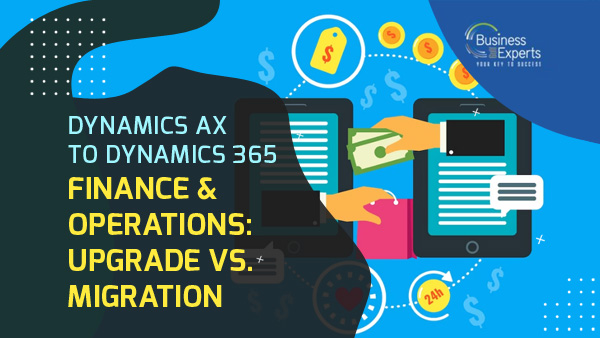 Dynamics AX To Dynamics 365 Finance & Operations – Are you thinking about the ideal moment to switch to the cloud? You might already be taking advantage of all the cloud's benefits today as the obvious answer is "yesterday"! You are limiting your organization's capacity to undergo digital transformation every day that you put off switching to a cloud-based platform like Microsoft Dynamics 365.
Your business is in danger if you use outdated software like Dynamics AX. You can no longer obtain security updates and hotfixes because mainstream support has ended for all versions of Dynamics AX. Microsoft's self-service knowledge base and support websites are your team's only sources of assistance.
It is for this reason that companies all around the world are switching to Dynamics 365 Finance & Operations.
Dynamics 365 Finance & Operations Upgrade or Migration from Dynamics AX
The database is completely upgraded to the new system when it undergoes an upgrade. Contrarily, a significant amount of history is left in the previous framework when migration occurs. One benefit of discarding old data is that much of it may be out-of-date and useless. It is still possible to keep the outdated information separate and access it as needed.
Upgrading is the best course of action if you use Dynamics AX 2012 R2 or R3 and your solution has few to no customizations. You can use a suite of Microsoft tools to convert your complete database to Dynamics 365 Finance & Operations.
However, if you are a user of Dynamics AX 2009 or AX 2012 (before R2), you must select the migration approach because the Microsoft toolset is incompatible with these older versions. A migration would also be necessary if you wanted to replace or remove a significant amount of customization and needed effective configuration modifications.
Massive businesses can save money, have more flexibility, and be able to operationalise the enormous amounts of data they've been hoarding by switching from Dynamics AX to Office 365.
Benefits of an Upgrade to Microsoft Dynamics AX for Businesses
Cost Savings
D365 can potentially cut costs on several fronts compared to on-prem hosted AX. You pay less on labour and hardware expenditures because there is no financial commitment towards server upkeep or database administration.
The paradigm changes from where you pay for upkeep to a fundamental SaaS-based approach when switching from AX to Dynamics 365. As a result, no on-premise servers need to be supplied, significantly lowering the cost of hiring employees to manage and run the system.
Management Is Simple
Dynamics 365 enables businesses to concentrate on what they do finest, probably not setting up ERP systems, handling hardware, or creating support procedures and documentation. Application development running, in contrast, is significantly more straightforward and efficient.
The Microsoft LCS collaboration portal provides a setting and a slew of services to assist customers in managing application migration, development, and other tasks.
Power Automate and Integration enable your staff to create automation using manoeuvre, low-code tools, and AI-driven workflows to scale operations.
Corporate Resilience
Microsoft guarantees business permanence and catastrophe retrieval for all Dynamics 365 cloud-based products, ensuring your system remains operational—even under trying circumstances.
Customizations/Integrations
Unlike AX, Dynamics 365 Finance & Operations offers several features that make moving code, data and customizations and creating new ones simple. There are configuration options and other devices inside that you may use to customize pre-built features to your particular company's requirements.
Customers can use new standard capabilities to cut the period and costs of creating unique applications from the ground and setting up intricate integrations with external platforms.
Platform Power
Dynamics 365 provides a simple addition to the Power Platform. Power BI gives businesses access to company data through comprehensible charts and visualizations from any location.
The intelligent Microsoft cloud, data factory, and others will all be available to them, and they will be able to create their unique apps, workflows, and automation.
What Options Do You Have for Migration?
There are now several alternative migration options available. Your decision will largely depend on two critical factors:
The Phase of Your Present Option
The update process will be easy if you update from AX or later. You can only progress your current programme's most recent version to D365. So, before beginning the migration process, you might need to opt for an update. However, you'll probably require a new implementation if you still use an outdated version.
What Proportion of Your Existing System Do You Wish to Move to D365?
Are you wondering about carrying out any customisations or reports? The age of your solution also plays a role in this. For instance, if you've been using a version that's been heavily customised or a workaround, you should probably assess to determine what to preserve and what to discard.
Notably, most operators will probably choose re-implementation to start over entirely and prevent migrating issues from history.
Bemea's specialists adhere to a tried-and-true procedure based on years of expertise and the lessons discovered when carrying out hundreds of other migrations.
To know more you can contact us at info@bemea.com
Follow us on our LinkedIn to stay up-to-date on this solution.