How Capable is Microsoft Dynamics 365 for Sales?
by admin / October 03, 2023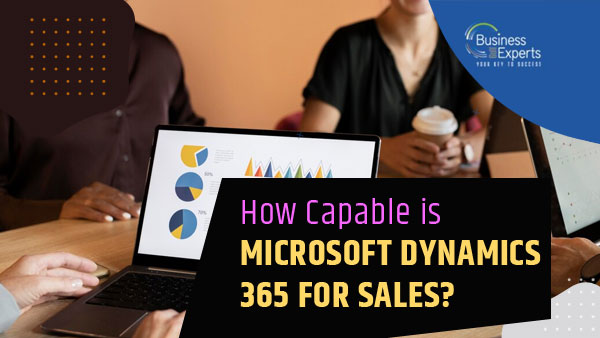 Businesses that rely on Microsoft Dynamics 365 for Sales can expedite revenue generation, besides streamlining sales procedures. It helps companies gain insights and make informed decisions. Customers matter the most to every business enterprise. Thus, the priority is strengthening the bond with existing consumers and growing good relationships with new ones. Microsoft Dynamics 365 sales can help your business accomplish these aforementioned objectives. You will be better compared to your competitors at catering to the needs of your customers and prospects if you use this apt tool.
You must harness the potential of Microsoft Dynamics 365 for Sales to gain a competitive advantage. Embracing advanced technology and tools can enable you to keep up with the rapidly evolving sales environment and customer requirements. Your sales team can reap a host of advantages if it uses a solution that comes with adaptive intelligence, which streamlines the selling process.
The integration of machine learning and artificial intelligence has increased the usefulness and capability of Dynamic 365. The approach of sales professionals can be more customer-centric because of seamless access to real-time data and actionable workflow. Both in-person and remote sales are possible when you use this tool, and it helps improve the buying experience remarkably.
Customer Database Importing and Exporting
It is a tedious and time-consuming task for the executives of a company to import and export a sizable database of customers to a new system. Such a cumbersome job affects the employees' productivity and work efficiency. Therefore, most companies use Dynamics 365 Sales as it is adept at carrying out the database import or export seamlessly.
A couple of methods exist to perform these tasks without affecting the pace at which responsible team members should work. Aside from forming several data batches, transferring the whole data at a time is possible for Dynamics 365. It can help share data with the team as well as customers.
Share Useful Data Insights
Access to precise customer data is imperative for a business to serve customers better and grow successfully. Employing Dynamics 365 can help a company create presentations, including charts, graphs, statistics, etc., that are easy to understand. You can even keep tracking your potential competitors and services or offerings to their customers.
The sales team will be better at assimilating each customer's likes and preferences. Moreover, Dynamics 365 helps assess the issues that customers often encounter and understand the demand for specific products. Sharing customer data insights with users wouldn't have been easier without this amazing tool.
Customer Tracking
For scheduled maintenance and comprehensive assistance, you must rely on Dynamics 365 customer service. Leveraging the software can enable you to track your customers from the time they use your company's product or service.
You need not spend on anything else once you invest in Dynamics 365, which can manage marketing campaigns-specific data, besides customer acquisition expenses. The tool is capable of tracking customers' inquiry tickets until the sales team resolves the same. Thus, the relationship between a company and its esteemed customers becomes stronger.
Optimize Sales Process
Dynamics 365 can optimize the entire sales process using standard workflows and automation. It facilitates the sales team as the members can work efficiently and effectively in a more collaborative environment.
The software helps remove the repetitive manual as well as administrative tasks. This tool provides a platform that's centralized, which helps the sales team share data and reports. It makes data management easier for the entire team.
Lead Management Automation
Classification of leads depending on various criteria makes the sales team experience difficulties often. Sales executives are responsible for categorizing leads and serving each of them according to their needs. Microsoft Dynamics 365 for Sales is great at automating lead management, which eliminates the chances of manual errors.
As per your company's requirements, the software can classify the collected leads automatically. Furthermore, it sends the list of different categories of leads to the designated sales professional. It makes the lead management procedure efficient and seamless.
Contributes to the Scalability of Business
Using Dynamics 365 can help your business scale significantly. It is capable of scaling all necessary functions as the count of consumers grows. You will be able to provide the best experience if you use this advanced tool during the conversion of leads to your clients. You have the control to increase or reduce the software's functionality depending on your business's growth.
Make sure you get Microsoft Dynamics 365 from a reputed provider. You will get the most feature-packed software if you contact a company that provides comprehensive Dynamics 365 solutions and services. To know more you can contact us at info@bemea.com. Follow us on our LinkedIn to stay up-to-date on this solution.