How Do I Get Started with Dynamics Business Central?
by admin / July 24, 2023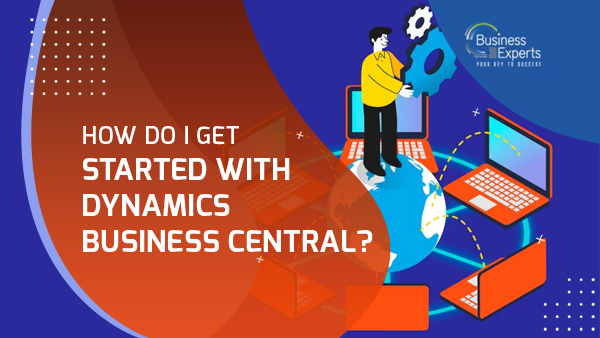 Microsoft Dynamics 365 CRM is a potent and adaptable tool that may aid in expanding your company. But because of all the features, newbies could find it a little frightening. In this manual, the professionals will outline how Dynamics Business Central assists you in setting up your sales, marketing, and service teams and why it's essential to understand more about it.
Having Knowledge of Microsoft Dynamics 365
Through relationship knowledge, improved business processes, and application integration. Microsoft Dynamics 365, a cloud-based solution, assists your sales force in increasing revenue.
Relationship Understanding
Dynamics 365 leverages machine intelligence to give you real-time insight into client behaviour. You can use this information to develop more effective sales efforts and to decide how to spend your marketing budget more wisely.
Effectiveness Of Business Process
Dynamics 365 helps you save time by automating tedious processes with intelligent bots available 24/7. With just a few clicks, you may start creating your bots or modifying pre-existing ones to suit your needs.
Integration Of Applications
From the first point of contact to the follow-up after a sale, connecting all the data points from various technologies onto one platform enables you to make better decisions throughout the customer journey, ensuring that each encounter feeds straight into your CRM system.
As a result, you get a comprehensive insight into every brand engagement with a prospect at any time during their interaction with the experts.
What Is Dynamics 365 Business Central from Microsoft?
You can increase efficiency and profitability with Microsoft Dynamics 365 Business Central. You may receive a 360-degree business perspective using Microsoft Dynamics 365 Business Central.
Dynamics Business Central is a brand-new cloud-based company management tool that enables you to make data-driven choices and organise teams around the objectives of your organisation. Using this system, you may learn more about every part of the company, including the finances, operations, customer service, marketing, and sales.
What makes Microsoft Dynamics 365 Business Central unique from other products on the market may be something you're interested in learning.
Key Distinctions Include the Following:
The capacity for organisations of all sizes to launch with a cost-effective, user-friendly solution that scales swiftly as they expand
A flexible strategy that enables customers to pick how they want their business data maintained by choosing the proper combination of modules—from standalone apps like Sales Management to finance and accounting software modules—that best suit their needs.
What Is Dynamics 365 CRM From Microsoft?
Customer relationship management (CRM) enables businesses to manage customer data, produce new leads, communicate with clients, and address client care issues.
It functions as a database that helps businesses manage and arrange client and lead data. Through the programme, users can get in touch with customers and leads. The programme also records and keeps track of each customer encounter. This allows a business to develop a complete picture of client interactions and tailor the customer journey.
What Makes Microsoft Dynamics 365 CRM The Best Option for Your Company?
Business software called Dynamics 365 is available. One of the programmes in this suite is Dynamics 365 CRM, which provides comprehensive solutions for your company. A low learning curve and flexibility allow you to tailor the programme to your requirements.
The final word? Microsoft Dynamics Partners give you everything you need to enhance customer connections, boost productivity, and forge closer bonds with partners, staff members, and others.
Features of Microsoft Dynamics 365 CRM
Customer Interaction
With the help of Microsoft Dynamics 365 CRM, you can interact with your clients. By offering tailored experiences that make it simpler for them to access information on the move. You can develop one-to-one marketing campaigns using this functionality and distribute them via social media and email marketing.
Consumer Assistance
You can quickly track consumer complaints with this tool and address them. With this tool, you can easily access historical data and up-to-date information about specific clients. Allowing you to cater to their needs in the most effective way possible.
Sales
You can keep track of important sales data once this feature is in place. As a result, you will be better able to decide on prospects or possibilities based on real-time information from numerous channels, including social media sites.
Enterprise Intelligence
Microsoft Dynamics 365 CRM excels in this area because it enables users to examine information visually using charts, graphs, and other tools, which makes it simple for all parties engaged within an organisation.
Lasting Thoughts
Without a doubt, Microsoft Dynamics 365 CRM has several advantages for companies like yours. Therefore, the Microsoft Dynamics Partners at BEMEA have all the answers if you're considering adopting Dynamics CRM in your business but still have questions about it. For more information, please speak with our specialists!
To know more you can contact us at info@bemea.com. Follow us on our LinkedIn to stay up-to-date on this solution.