What Are The 3 Main Areas In Dynamics CRM?
by Author / March 20, 2023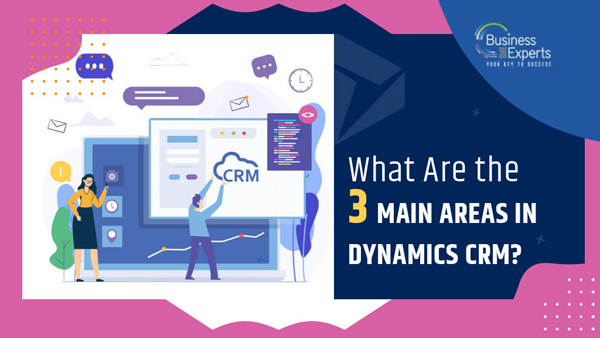 Finding the best Customer Relationship Management (CRM) software to increase performance and productivity can be difficult. It's not enough to look at how well liked a CRM system is before selecting it for your company. We'll examine Dynamics CRM's three primary areas in this article. CRM software has three main functions, and by giving you a 360 degree overview of all your customers, it aids in relationship management.
Dynamics CRM: What Is It?
Microsoft created the business application known as Dynamics CRM. The software, known as customer relationship management (CRM), aids companies in managing their client information, generating new leads, interacting with customers, and customer care issues.
It is essentially a database that assists organisations in managing and organizing their client and leads data. Users of the software can get in touch with clients and leads. and the software keeps track of all client interactions and records them.
It enables a business to construct a comprehensive picture of its customer relationships. allowing for the personalization of the customer journey. The Microsoft Dynamics package from a Microsoft Gold Partner includes CRM and ERP software (now referred to as "apps") and includes Dynamics AX.
Key Microsoft CRM Functional Components
The entire CRM programme is functionally segmented for several user groups and teams. Consequently, if an organisation uses CRM to manage its operations, the Sales team's users will utilise the Sales module's functionalities. In contrast, the Marketing team's users would utilise the Marketing module's functionalities.
To drive the whole lifecycle of acquiring a new customer (Marketing), providing them with services (Sales). and keeping the existing customer base, all three of these modules work together (Service Management).
Sales: With Microsoft Dynamics CRM, Increase Sales More Quickly
Purchasing decisions are frequently decided before engaging. Sales must adjust swiftly if they want to succeed. Your sales force can be more productive at work or on the go by utilizing easy to use, and familiar solutions. They have excellent access to social data using Microsoft Dynamics CRM Online for lead creation and relationship management, enhancing the usefulness and productivity of each customer interaction.
Your sales representatives can collaborate effortlessly across teams, locations, and work groups with real time access to their funnel from any location and device. Lead generation, lead to opportunity conversion upon qualifying, order management, and invoice monitoring are all included in the Microsoft Dynamics CRM software sales process.
Marketing: With Microsoft Dynamics CRM, You Can Draw In And Keep Customers
Marketers today need to be able to quickly design, carry out, and campaigns from beginning to end. By enabling you to organize your marketing around a single, plan, Microsoft Dynamics helps you engage your customers and realise your vision.
Your time to market will be shorter, your brand's consistency and message will be improved, and you'll learn a lot about your customers, which will help you plan wisely and execute perfectly. Staying aligned and nimble on brand, content, and events requires enterprise ready collaboration across your team and external agencies.
Customer Service: Provide Exceptional Customer Service That Drives Loyalty
In order to manage and surpass SLAs, Microsoft Dynamics CRM offers complete capabilities for customer service and support that can help to speed up case resolutions, response times, and increase customer self service.
Using any device, you may provide quick, and effective service anywhere, at any time. To satisfy the demands of today's customers, connect with them through any channel, offer service on their terms, and give your staff the freedom to respond rapidly.
How Can It Support Company Growth?
With the help of Dynamics 365 from a Microsoft Gold Partner, users have access to a single source of truth for all sales and customer data. It provides users with a thorough understanding of their customers' journeys, enabling them to track customer journeys, produce and evaluate leads, and take advantage of opportunities.
The software can enhance long-term brand loyalty by users in building connections with their consumers and providing better, faster service at all points in the sales funnel. Businesses can run more effectively by reaching more customers and saving time and money by automating some steps in the sales process.
Thanks to mobile applications, businesses can go where the opportunities are, which makes it simpler to provide excellent customer service from anywhere.
As of now, we've learned about the three main CRM modules: sales, and customer service. Business Experts Gulf understood how CRM work areas are structured and how the full lifecycle of a CRM company operates. Whatever your needs are for customer relationship management, you'll be able to select a solution that will be ideal and simplify customer interaction.
To know more, reach out to us on info@bemea.com or call +971 4 421 4909. You can also WhatsApp us at +971 54 328 2117.
Follow us on our LinkedIn to stay up-to-date on this solution.